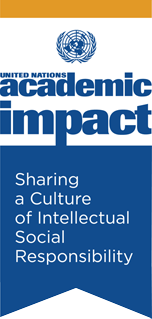 The UN Academic Impact (UNAI) and the Sustainable Development Solutions Network (SDSN) have announced a strategic collaboration around the 17 Sustainable Development Goals (SDGs)!
As part of this collaboration, UNAI and SDSN will work to mobilize universities and other knowledge institutions to promote teaching, applied research, and problem solving on a range of issues. The two organizations will host academic events and seminars to bring together members of the UN family and academia to discuss specific issues of research and policy relevant to the UN's objectives, including the SDGs. UN Academic Impact and the SDSN will work together to generate relevant academic content, reaching out to scholars around the world, and will work with them to integrate content into global academic programs. Both initiatives will work to link and promote their youth networks and promote each other's work within network entities including regional centres, regional networks and national networks as applicable.
Get involved today! For more information and to become a member of UNAI visit academicimpact.un.org.
Read the full Statement of Collaboration between UNAI and SDSN here.